Medicare cost 2021?  Once again, as in previous years, this is one of the biggest questions that Medicare beneficiaries ask us.  For updated 2022 costs click here.
Each year your basic costs change due to increases in Part B premium, deductibles, and co-insurance.  To see the current Medicare cost for 2021 please refer to the image below.  Have questions?  Call us today at (800)924-4727.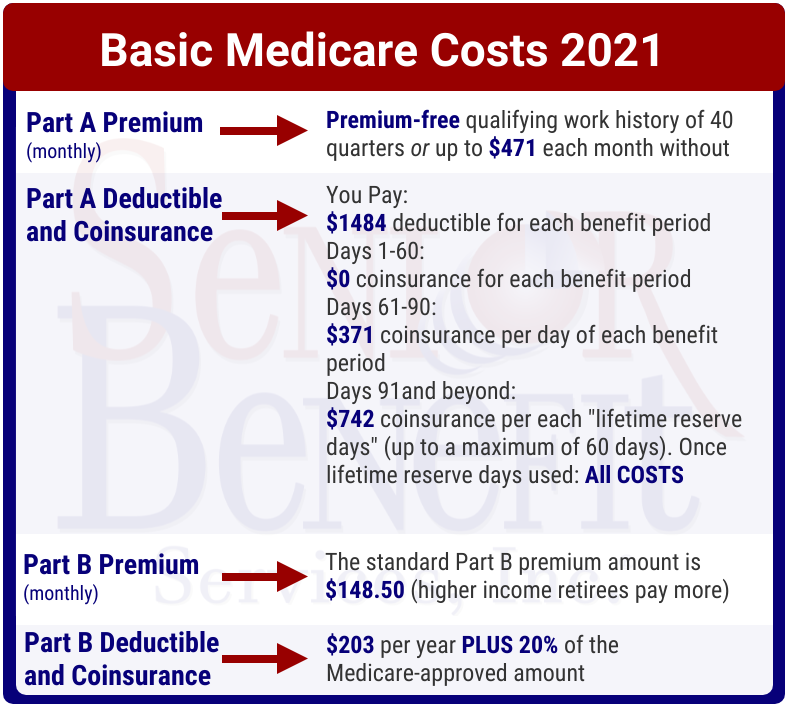 Keep in mind that if you worked 40 quarters during your lifetime, you will not be charged the Part A premium.  During your working years, the Part A premium was funded thru your Medicare taxes paid each pay period.  The deductible for Part A  increased from $1408 in 2020 to $1484 in 2021.  The daily co-insurance for days 61-90 increased from $352 per day in 2020 to $371 per day in 2021.  In addition, the lifetime reserve days which run from days 91-150 rose from $704 per day in 2020 to $742 per day in 2021.  The co-payment for skilled nursing facility increased from $176 per day from days 20-100 to $185.50 per day in 2021.
The standard Medicare Part B premium had a small increase from $144.60 per month in 2020 to $148.50 per month in 2021.  It is currently being projected that the Part B premium will have a larger increase percentage in 2022 due to the FDA approval of a new Alzheimer's prescription.
The increases from 2019 to 2020 are located here and the increases from 2020 to 2021 are located here.
Wondering if you are paying to much for your current Medicare Supplement plan?  Get a FREE, NO OBLIGATION quote by clicking here.