At this stage in your life you probably only need enough life insurance to cover your burial but figuring out what is the best burial insurance for seniors can be confusing.
But, did you know that burial insurance, often called final expense insurance works exactly the same, no matter what company you choose.
Today we will go over what burial insurance is and how it works.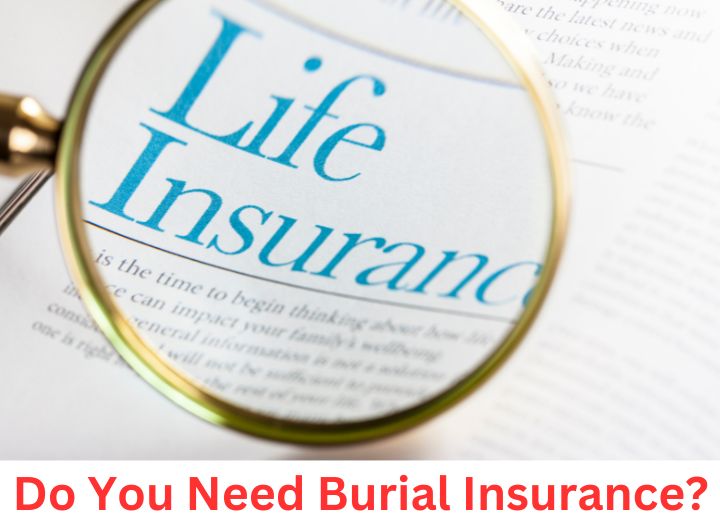 What Is Burial Insurance?
Burial Insurance for seniors is simply life insurance coverage usually enough to just cover your burial and final expenses.
They are whole life policies that range between $2,000 and $25,000 and focus on people between the ages of 50 to 85 and are much easier to qualify for.
These policies can be used to cover funeral expenses as well as other small final expenses, there are usually 3 different types:
Level 
The level policy is going to have health questions, a phone interview and the most affordable version of a burial insurance policy. It also won't have a waiting period.
Standard
The standard policy is going to have fewer health questions you will need to answer to qualify for coverage and be the second most affordable version of a burial policy. It also won't have a waiting period.
Guaranteed Acceptance Or Modified Burial Insurance
This policy will have usually a 2 or 3 year waiting period before your benefits will kick in and will not have any health questions or phone interview to qualify for coverage.
How Much Life Insurance Do You Need?
The average burial costs around $10,000 and the average cremation is around $5,000 so you want to make sure you have more than enough coverage to cover those expenses.
If you aren't sure how much coverage you will need you can check out this nifty calculator that will help you figure out the amount of coverage you should have.  Below you will find some sample rates for both Males and Females for $5,000 of coverage.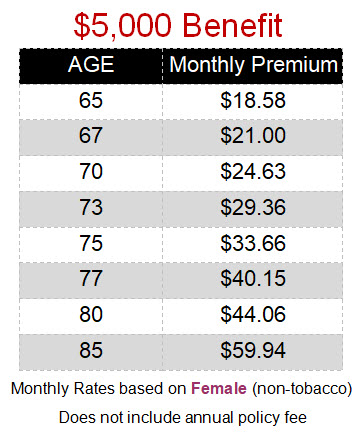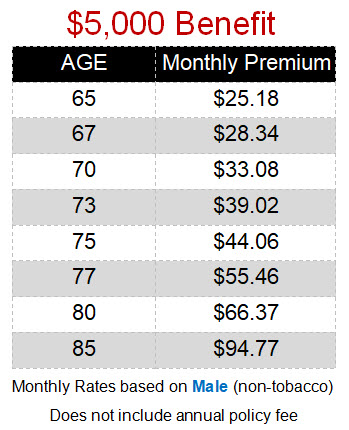 Taking Action
For personalized guidance in selecting the right burial insurance policy, our experienced advisors at Senior Benefit Services are available for consultations, ensuring you make an informed decision that best suits your final expense planning.
Having coverage for your final expenses is essential for your family to not be too financially burdened when you pass away.  If you are needing life insurance that exceeds $25,000 in benefits, please click here to obtain your quote.
You can reach us toll free at 1.800.924.4727 to get assistance with a burial insurance policy.