Are you getting ready to turn 65? Right now you might be wondering, "When do I need to sign up for Medicare benefits?"  Before you even begin to look for a Medicare Supplement, a Prescription drug plan, or even a Medicare Advantage plan, you need to enroll into Medicare in a timely fashion.  To make things easier for you, take a look at our easy to understand Enrollment Timeline to understand when you should sign up for Medicare.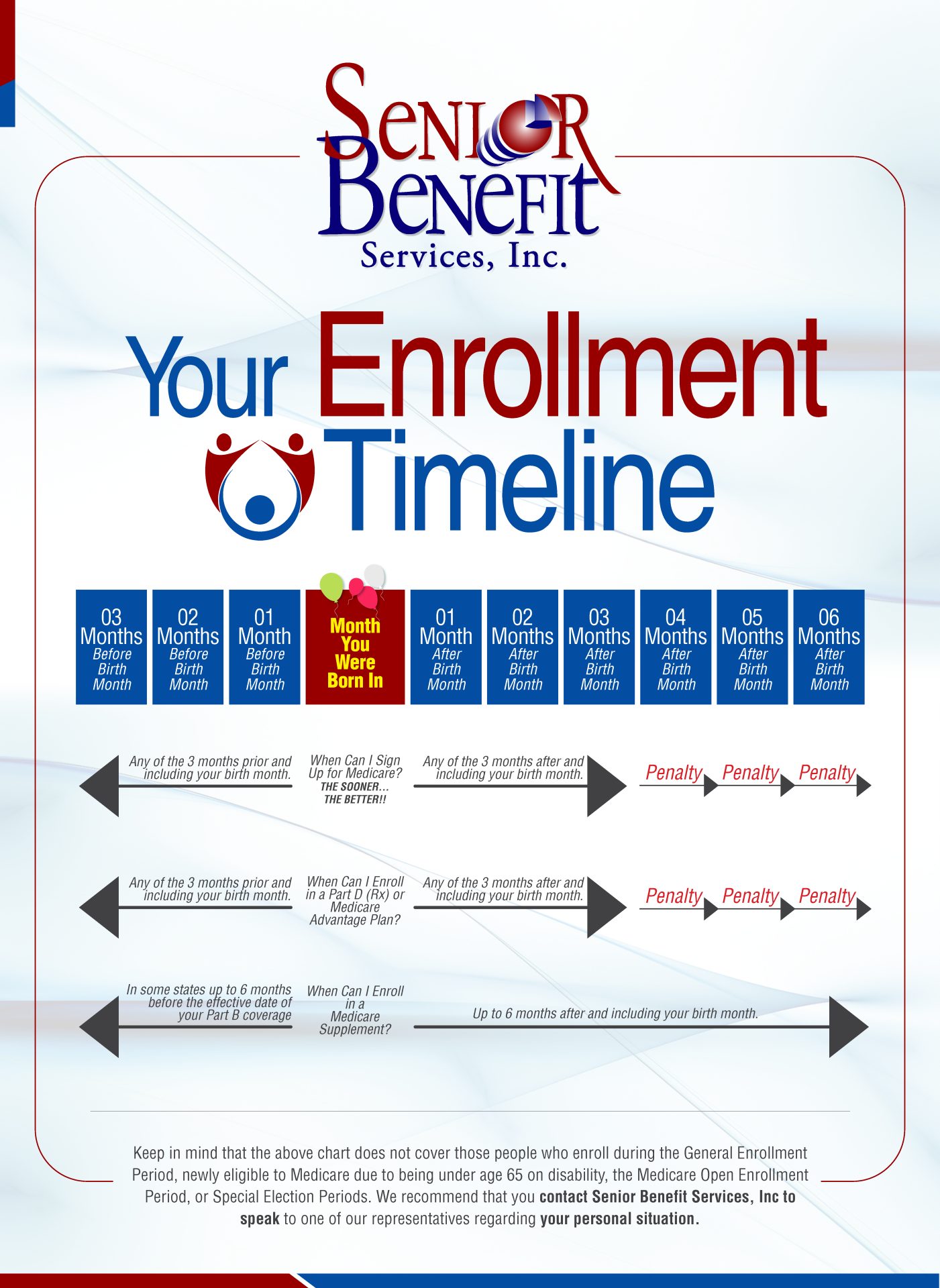 (Click on the image to enlarge it.)
What Happens If You Are Late Signing Up?
If you were eligible for Medicare Part A but sign up later than you should have, you should not have to pay any late penalties.  If you and your spouse both worked less than 40 quarters, and you sign up late, then you may have to pay a penalty up to 10% additional unless you qualify for a special election period.
When it comes to signing up for Part B of Medicare, there can be serious financial consequences for not enrolling on time.  In addition to late penalties, if you miss your initial election period you will have to sign up during the general enrollment period which runs from January 1 – March 31 each year, but your coverage would not go into effect until July 1 of the year you sign up.  This means you could be without Part B coverage for 6 months or more.  As you can see, it is vitally important to sign up for Medicare benefits in a timely fashion.
To make sure everything goes smoothly it is easiest for you to contact us between 6-9 months before turning 65 so we can help you understand how simple the process can really be.  Our advisors will take the time to help answers any questions that you might have and provide guidance on how to even set up your own online Medicare.gov account.
Already signed up and need to start shopping for your health insurance, simply call (800)924-4727 and we will put you with your own personal advisor.