​I'm sure you can agree that turning 65 was really exciting… that's until you had to learn about Medicare, the different plan options available, like Medicare Supplement Plans, and how they all work together.
But here's the thing:
​You can get educated on Medicare Supplement plans, (often called Medigap plans or Medsup plans​) get covered, and move on with your retirement in less than an hour or two.
Today, this definitive guide will explain to you what Medigap plans are, what they cover, their costs, the best Medicare Supplement plans, how they work, and how to apply for coverage.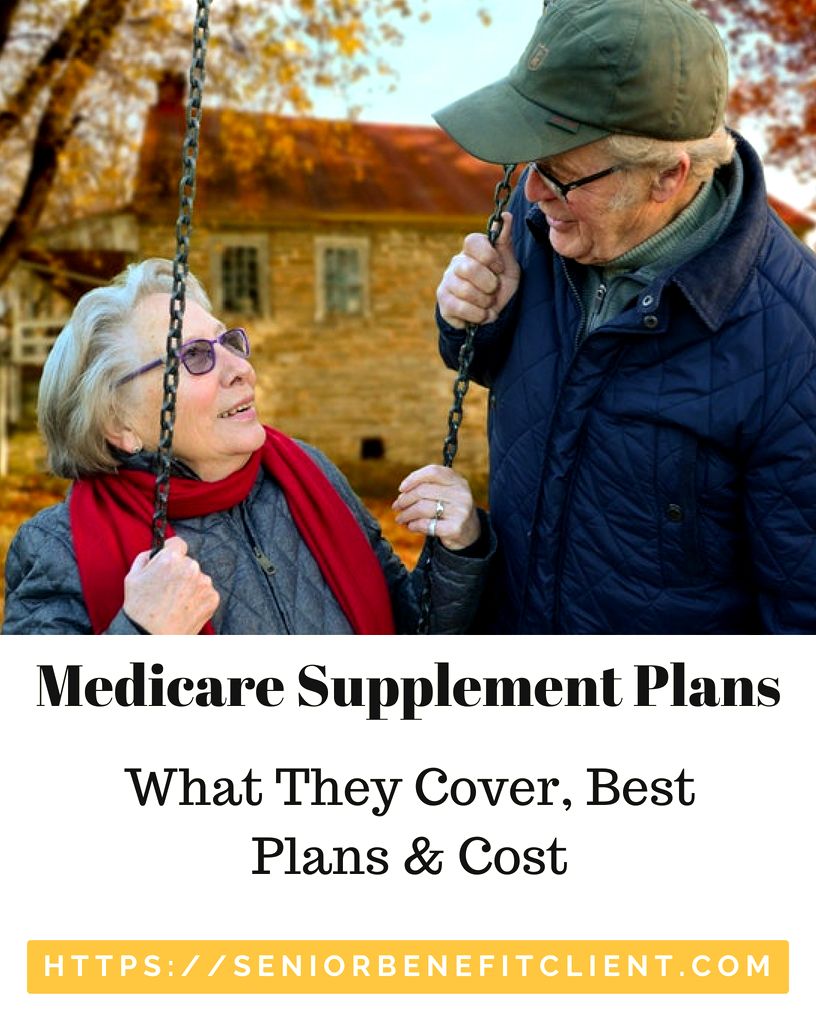 We recommend you get started with a free Medicare Supplement quote by state.

What Is Medicare
This guide wouldn't be complete without going over at the least the basics of what Medicare is and how it works.
Medicare is health insurance offered by the federal government when:
​You are younger and have a disability
​You Have amyotrophic lateral sclerosis (ALS)
​You are a U.S. citizen, or a permanent resident lawfully residing in the U.S for at least five continuous years.
​You have End-Stage Renal Disease, sometimes called ESRD (which is permanent kidney failure requiring a transplant.)
​There are a few different parts of Medicare, you can learn about them in the video below ​or check out our outline ​beneath the video:
Medicare Part A (Hospital Insurance)
Part A of Medicare covers inpatient hospital stays, care in a skilled nursing facility, hospice care, and some home health care.
Basically, any hospital expenses that are critical to your care like a semi-private room, your meals, medications that are part of your inpatient care and nurse services.
Medicare Part B (Medical Insurance)
Part B of Medicare covers outpatient care, ambulance services, preventative services, medical supplies and certain doctors' services.
For instance, you get a one-time "Welcome To Medicare" preventive visit for free where your doctor will do things like check your blood pressure, vision weight and height and make sure you are up to date with your preventative screenings like cancer screenings.
Medicare Part C  (Medicare Advantage Plans)
Medicare Advantage plans are also known as Medicare Part C.
These plans are offered by private health insurance companies and are approved by Medicare for people who are enrolled in Part A and B of Medicare.  We Discuss the differences between these plans and Medicare supplemental insurance plans below – Link To Med-Sup vs Med Adv
Medicare Part D (Prescription Drug Coverage)
Part D of Medicare covers your prescription drug coverage.
These prescription drug plans are offered through private insurance companies that have been approved by Medicare.
Before you make any changes to your Medicare Plans, be sure to know how or if it will affect your Part D coverage if you​ are enrolled.
So, there you have it:
Medicare is health insurance provided by the federal government, and it is broken into 4 parts.
These parts are Medicare's attempt at helping manage the costs of health care.
However, there are some gaps in coverage that can happen in the stand-alone Medicare coverage that will leave you open to expenses you didn't expect, and that is where Medicare Supplement Plans or Medigap Plans come into play.

What Are Medicare Supplement Plans (Medigap)
Medicare Supplement plans are products that help supplement original Medicare and are offered through private insurance companies.
They help pay some of the hospital and medical costs for things that original Medicare doesn't cover like:
​Emergency Overseas Travel
​Co-payments
​Co-Insurance
​Yearly Deductibles
​Part B Excess Charges, etc…
​This is where the nickname Medigap comes from, this policy fills the "gaps" that can be found in original Medicare coverage.
Below we discuss how Medicare Supplements work and what they cover.
What Does Medicare Supplemental Insurance (Medigap) Cover?
Before you can even attempt to enroll in Medigap plans, you must be enrolled in original Medicare, both Parts A & B.
You will need to stay enrolled in original Medicare to remain eligible for your Medsup or Medigap plan.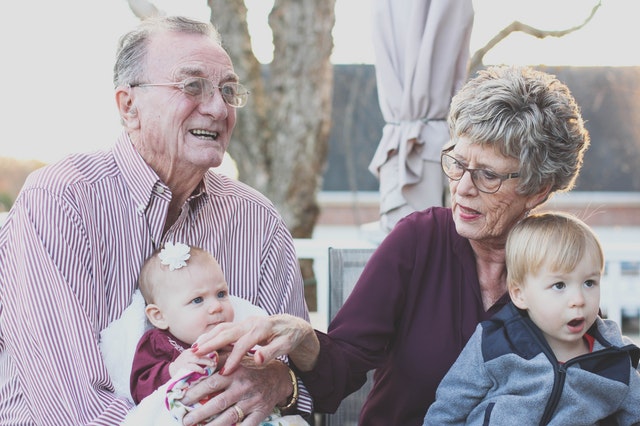 As of today, there are 10 standardized Medsup plans that you can choose from when you are deciding what to purchase. To answer the question of, 'What are Medicare Supplement Plans?' you have to take a much closer look at all of the details in each plan.
These plans are A, B, C, D, F, G, K, L, M, N; you can also get Plan F in a "high-deductible" version.
Outside of Massachusetts, Minnesota & Wisconsin, who have their own set of standard Medsup plans; most states have these 10 plans.
eHealthmedicare.com actually has a great map that shows Medsup plans by their state if you want more state specific information..
Now here's the thing:
While the pricing can be different, all the benefits of each plan letter are the same no matter what insurance company you go through or where you live.
This means that a Plan G in Georgia with Company A will have the same benefits as a Plan G in Texas with Company B.
I am bringing this up because sometimes the companies that have the best pricing are probably ones you have never heard of before like Heartland or Lumico and you don't want to lose out on savings just because of a name.
If Aetna or Blue Cross is more expensive, it isn't because they are going to be offering more benefits so be sure to go with the company that has the best rate for your situation when you are looking at these plans.
Overall, all Medicare Supplement plans cover the below benefits:
​Medicare Part A coinsurance and hospital costs (up to an additional 365 days after Medicare benefits are used)
​Medicare Part B coinsurance or co-payment*
​Blood (first 3 pints)*Part A hospice care coinsurance or co-payment*
​*Coverage may be partial for some plans. Some Medicare Supplement plans will also cover:
​Skilled nursing facility care coinsurance
​Medicare Part A deductible
​Medicare Part B deductible
​Medicare Part B excess charges (the amount that a non-participating provider may charge above the Medicare-approved cost for a service)
​Foreign travel emergency (up to plan limits)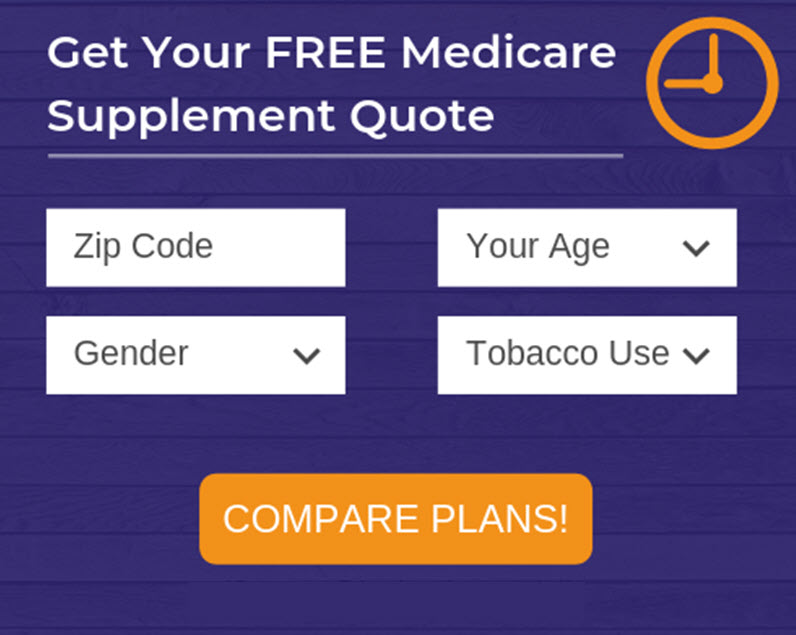 ​Plan K and Plan L include an out-of-pocket limit.
Once your spending for Medicare-covered services reaches a certain amount, the Medigap plan will cover 100% of Medicare-covered costs for the rest of the year.
Now that you know what Medicare Supplement plans cover, how about we discuss the things they won't cover.
Did You Know:You must be enrolled in Medicare Part A and Part B to get a Medicare Supplement plan.
What Does Medicare Supplement Insurance (Medsup) NOT Cover?
Medigap policies usually do not cover the following health services and supplies:
​Long-term care (care in a nursing home)
​Routine vision or dental care
​Eyeglasses
​Private-duty nursing
​Prescription drugs – You will need to enroll in a stand-alone Plan D Prescription drug plan
If you need assistance in enrolling in a Prescription Drug Plan as part of our services we will help you through the process free of charge.
Medicare Supplement Vs Medicare Advantage (Often Called Plan C)
When you start doing your research on original Medicare you are going to get confused with all of the "M" words.
One of the most commonly asked questions is what is the difference between Medicare Advantage and Medicare Supplements.
While they are both products offered through private insurance companies they work and do two entirely different things.
Both of these plans cost money in addition to the plan premiums for your original Medicare.
You also can't have both of these plans at the same time and below is a simple chart of the differences:
| | Medicare Advantage | Medicare ​Supplements |
| --- | --- | --- |
| In Relation to Original Medicare Parts A & B | Private health plan that provides Part A & B benefits directly in place of Regular Medicare. | Private gap coverage that pays all or most Part A & B out-of-pocket expenses. |
| Premium | $0 to more than $100 a month depending on the plan. Anyone enrolled will pay the same no matter of age or health history. | Average of about $125 to $225 a month. Can vary by age, health history, or Company. |
| Out-of-pocket costs | In-network medical deductibles and co-pays of $3,240 up to $7,500 a year, depending on the plan. | Very Low Cost to None (excluding the monthly premium) |
| Choice of doctors and hospitals | HMO: Plan providers only. PPO: Any provider,  but out-of-network providers cost more. | Any Provider that participates in Medicare. |
| When Can You Purchase | When you first enroll in both Medicare A and B and annually thereafter during Open Enrollment (Oct.15 – Dec.7). | ​First six months after you sign up for Part B and are at least 65 years old.​ |
| ​Part D Prescription Coverage | ​Most plans include Part D coverage. | ​Not included. You must buy a separate Part D plan for this. |
| ​How Provider Is Paid | ​You pay deductibles and Co-pays directly to providers. | ​​Medigap almost always automatically cuts a check to providers after Medicare pays its share. |
Did You Know: All Medsup policies must be clearly identified as "Medicare Supplement Insurance."
How Much Does Medicare Supplement Cost
The one thing you will run into is that even though the Medigap plans are required to offer the same standard benefits for each lettered plan, the insurance companies can change the premiums and the Medicare Supplement cost.
We recommend allowing us to shop around for you to find the best plan and best pricing since insurance companies can price their plan premiums based on the following things:
Community no-Age-Rated
These Medicare Supplement insurance plans charge premiums that are the same across the board, regardless of age and are usually more affordable than attained-age-rated products over time.

Issue-Age-Rated
These plans base their premiums on your age when you first enrolled in the program.
So, the younger you are when you enroll in this type of policy, the lower your monthly premium will be.
Attained-Age-Rated
Like issue-age-rated, these plans base their premiums on the age you were when you first bought a policy, but unlike issue-age-rated, premiums with this type of policy will increase as you get older.
Finding the most affordable option can be time-consuming and a bit confusing, but we make the process very simple for you and help save you both time and money.
Check out some of our sample rates below:
​Sample ​Medicare supplement quotes

Age
Plan G
Plan F
​65
$91.29
$106.74
66
$91.29
$106.74
67
$91.29
$107.42
​68
$91.37
$108.48
​69
$​93.14
$111.72
70
$​93.03
$11​4.26
​Monthly premiums are based on a Non-Tobacco Female in Frederick County, VA​. We averaged 3 of our top carriers ​together. Rates effective as of 12/15/2022.
Read our article on Best Medicare Supplement Rates for Ages 70 to 75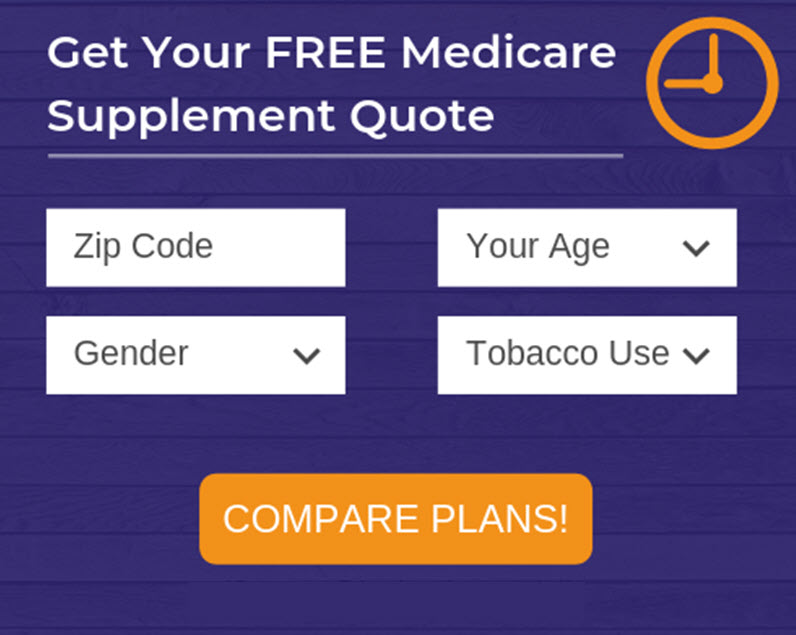 Did You Know: Premium costs may vary by the company, the plan, and your location, even for the same benefits.
Which Medicare Supplement Plan Is Best
There are 10 different Medicare Supplement Plans, or Medigap plans to choose from, and they all have their pros and cons.
You will find that the best plan is usually the one that works best for your situation and not merely a plan that is "The Best."
Some plans are more popular than most which are the Plan F, Plan N, and Plan G because of all the benefits these plans offer.
However, we usually suggest that you go with the plan that works best for your situation, you can check out a brief description of each plan and their benefits below:
Insert Content Template or Symbol
​Medicare Supplement Plans A – F

Benefits

​Plan A

Plan B

Plan C

Plan D

Plan F

Part A Hospital Co-insurance

Yes

Yes

Yes

Yes

Yes

​365 Hospital Reserve Days

Yes

Yes

Yes

Yes

Yes

​Part B co-insurance / co-payment

Yes

Yes

Yes

Yes

Yes

​Blood Benefit (first 3 pints)

Yes

Yes

Yes

Yes

Yes

​Hospice coinsurance / co-pay

Yes

Yes

Yes

Yes

Yes

Skilled Nursing Facility co-insurance

No

No

Yes

Yes

Yes

Part A deductible

No

Yes

Yes

Yes

Yes

​Part B deductible

No

No

Yes

No

Yes

​Part B excess charge

No

No

No

No

Yes

Foreign Travel Benefit

No

No

80%

80%

80%

​Out-of-pocket limit

​N/A

N/A

N/A

N/A

N/A
​Medicare Supplement Plans G – N

Benefits

​Plan G

Plan K

Plan L

Plan M

Plan N

Part A Hospital Co-insurance

Yes

Yes

Yes

Yes

Yes

​365 Hospital Reserve Days

Yes

Yes

Yes

Yes

Yes

​Part B co-insurance / co-payment

Yes

​50%

​​75%

Yes

Yes

​Blood Benefit (first 3 pints)

Yes

​​50%

​​75%

Yes

Yes

​Hospice coinsurance / co-pay

Yes

​​50%

​​75%

Yes

Yes

Skilled Nursing Facility co-insurance

​Yes

​​50%

​​75%

Yes

Yes

Part A deductible

​Yes

​50%

​75%

​50%

Yes

​Part B deductible

No

No

​No

No

​No

​Part B excess charge

​Yes

No

No

No

​No

Foreign Travel Benefit

​80%

No

​No

80%

80%

​Out-of-pocket limit

​N/A

​$5,240

​$2,620

N/A

N/A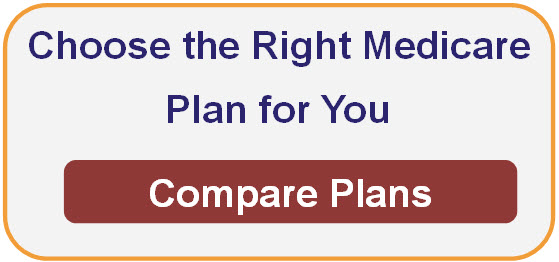 The most popular plans at the moment are Plan G, Plan F, and Plan N.
The Difference between Plan G & Plan F is that Plan G doesn't cover your Part B Medicare Deductible.
Depending on the company and price, you actually can save more money with Plan G than you can in Plan F.
Another thing to mention is that Plan F is going away in 2020, while this won't immediately affect you, it's usually best, from my experience to go with a policy that will have the least amount of changes.
Plan N is usually purchased by people who are just entering into Medicare and don't have much health history.
Again, we can't stress this enough…
The plan that is best for you is going to be one that covers all of your health concerns as well as budget.
We can help you through this process over the phone, you can call us at (800) 924-4727
Did You Know: A Medicare Supplement plan can only cover one person, there isn't a joint policy option.
How ​Do You Qualify & Enroll In Medi​gap Plans
Your eligibility for enrollment into a Medicare Supplement Insurance Plan (Medigap or Meetup) is dependent on you already being enrolled in both Medicare Parts A & B.
We think the best time to enroll in a Medigap plan is going to be during the Medigap Open Enrollment period.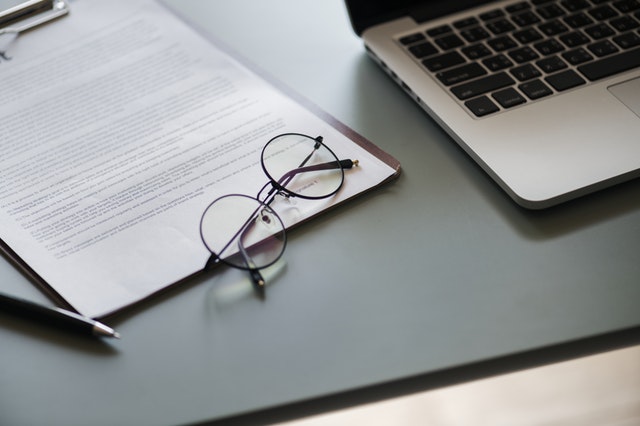 This period begins on the first day of the month that you are both age 65 or older and enrolled in Part B.
This period lasts for six months and during this time you have a guaranteed-issue right to join any Medicare Supplement plan available to you where you live.
During this initial enrollment period, you can't be denied primary coverage based on your medical history or pre-existing conditions.
In some states, you can enroll in a Medsup plan before the age of 65.
Did You Know: ​You can use your Medicare Supplement plan with any provider that accepts Medicare.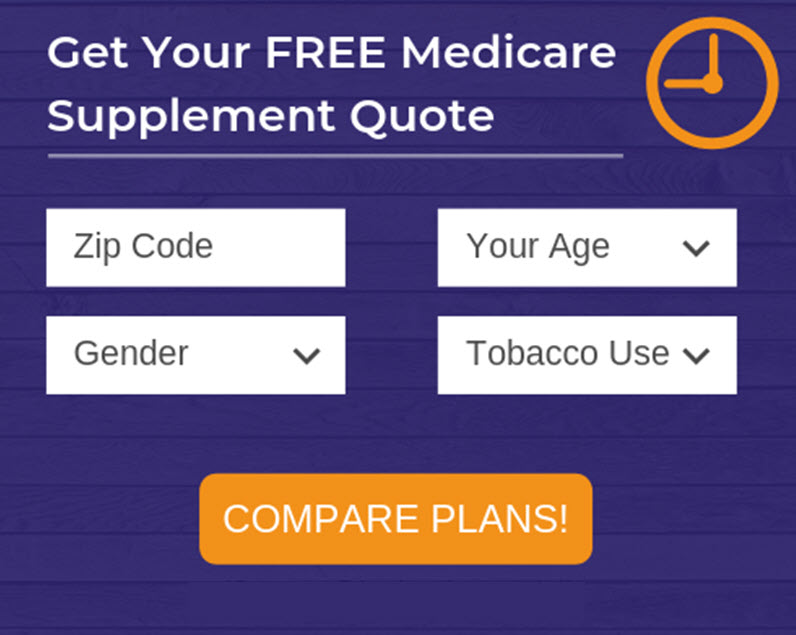 ​Medicare Supplement For Disabled Under 65
The answer to this question largely depends on the state that you live in.
While the Federal government doesn't require insurance companies to sell Medicare Supplement policies to you if you are under 65, some states do have this requirement.
If you don't know if your state offers Medigap policies for people under 65, please contact us at ​ 1.800.924.4727, and we can help you check.
If you're under the age of 65 and have Original Medicare due to being disabled, amyotrophic lateral sclerosis (ALS), or End-stage renal disease (ESRD), your state might let you apply for a Medicare supplement insurance plan.
However, you might not be able to get the policy option that you want, and the rates as well as your guaranteed issue rights won't be valid until you actually turn 65 years old.
​You will probably end up paying much more for your monthly premium or getting coverage that won't cover pre-existing conditions.
It's best to speak with one of our agents who can help you understand your state guidelines.
Did You Know: ​Not all Medicare Supplement plan types may be available in your state.
Is Medicare Supplement Guaranteed Issue?
To best answer this question we must first address your Guaranteed Issue Rights which ​are also known as your "Medigap Protections."
According to Medicare.gov, Guaranteed issue rights are merely rights that you have in specific situations when an insurance company is required by law to sell or offer you a Medigap policy.
In these situations, an insurance company:
​Must sell you a Medigap policy and can't deny you coverage
​Must cover all your pre-existing health conditions
​Can't charge you more for a Medigap policy because of past or present health problems
​​​In most cases, you get your Medigap Protections when you have other health coverage that changes in some way, like when you lose the additional health care coverage.
In other cases, you have a "trial right" to try a Medicare Advantage Plan (Part C) and still buy a Medigap policy if you change your mind later on.
You have a guaranteed issue right in these situations:
When You're in a Medicare Advantage Plan, and your plan is leaving Medicare or stops giving the care in your area, or you move out of the plan's service area.
If You have Original Medicare, and an employer group health plan (including retiree or COBRA coverage) or union coverage that pays after Medicare pays and that plan is ending.
​You have Original Medicare and a Medicare SELECT policy. You move out of the Medicare SELECT policy's service area.
​You joined a Medicare Advantage Plan or Programs of All-inclusive Care for the Elderly (PACE) when you were first eligible for Medicare Part A at 65, and within the first year of joining, you decide you want to switch to Original Medicare (Trial Right).
You dropped a Medigap policy to join a Medicare Advantage Plan (or to switch to a Medicare SELECT policy) for the first time, you've been in the plan less than a year, and you want to switch back. (Trial Right)
​Your Medigap insurance company goes bankrupt, and you lose your coverage, or your Medigap policy coverage otherwise ends through no fault of your own.
​You leave a Medicare Advantage Plan or drop a Medigap policy because the company hasn't followed the rules, or it misled you.
​​​​​​​​It's also good to note that there may be times when more than one of the situations above applies to you.
When this happens, you can choose the guaranteed issue right that gives you the best choice and if you are still unsure, feel free to fill out our form or give us a call at 1.800.924.4727.
Did You Know: ​Usually Medicare Supplement plans are guaranteed renewable as long as you continue to pay your premium.

Taking Action
When it comes to purchasing Medicare Supplement plans things can become a bit confusing, and it is easy to procrastinate just to avoid the pain you may associate with learning everything you need to know before purchasing coverage.
However, it is best that you take action as soon as you become eligible for such coverage.
But here's the best thing:
We are here to assist 100% of the way, from educating you on the product, quoting you and walking you through a simple 10-minute application.
You can fill out one of our quote forms below​, or call us today to get covered at 1.800.924.4727