There is a lot of confusion surrounding Medicare Supplement Plan F that has many policyholders pretty antsy.  Most have questions such as Is Medicare Plan F Still Available?  Can I Still Get Plan F? 
So what are your options?
But there is no need to worry because if you are currently enrolled in Plan F, then you can continue to enjoy its comprehensive coverage long after January 1, 2020 rolls around.
In Fact…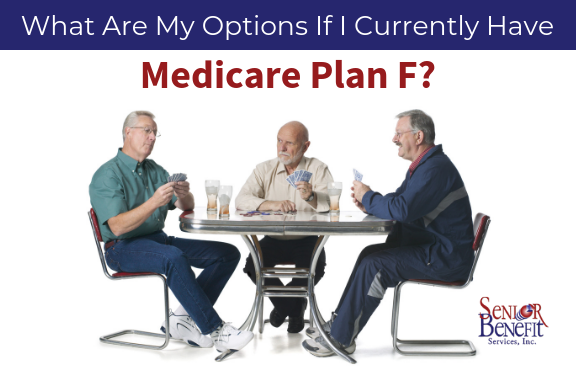 So long as you were eligible to enroll in Medicare before January 1, 2020, you will still be able to enroll into Medigap Plan F, Plan C, and the Plan F High Deductible option. The only people who will not be able to enroll in the so-called, 'First Dollar' coverage plans are people who do not become eligible for Medicare until January 1, 2020, or afterward. While there are multiple factors to consider when choosing any supplement plan, your current age and health will be a significant determining factor in determining your Plan F options.
Factor To Consider: Age
Most Medicare supplemental users take advantage of the initial open enrollment period to choose a plan 'which you cannot be denied coverage' during this underwriting period, according to Medicare FAQ's. Outside of these six months, for you to change Medigap Plans, the new insurer will require you to go through the usual underwriting process including reviewing your medical history. If you are currently enrolled in Plan F and are considering your options, your current health and the medications you are taking will play a big factor in determining the cost and/or acceptance of your new policy.If you are experiencing health problems or are taking multiple medications, you may not have an option to change supplement plans. Each person's medical condition is different, to discuss your options contact a Senior Benefits Medicare Expert today for a free consultation toll free at 1.800.924.4272 or get a quote below.

Factor To Consider: Health
Another factor you will need to consider when determining the best Medigap plan is your current age. When you switch plans at an older age, the premiums will be higher than when you were 65 because statistically, you are at a higher risk of having health problems. Carriers try and minimize their risks by charging new enrollees a higher premium based on their age, the state they live in, and sometimes even the city they reside affects the cost, during the open enrollment period. Outside of that period, insurers can also consider your past and current health conditions when deciding on your new premiums. If you have been enrolled in Medicare supplement programs for a longer period of time, it might make more financial sense to keep your Plan F policy but to know for sure you will need to contact a Medicare Expert.

You Can Keep Your Plan F Supplement Policy
In 2015, Congress passed the Medicare Access and CHIP Reauthorization Act (MACRA), commonly referred to as the 'Doc Fix' law. Essentially, this law discontinued all 'First Dollar' Medigap plans, including, Plan F, Plan C, and the High Deductible Plan F. These plans paid both the Medicare Part A and Part B deductibles which meant that the 'First Dollar' spent for a policyholders coverage came out of the insurers pocket, not the policyholders. Congress was concerned that people were going to the doctor for any small ailment because it wouldn't cost them a penny. By discontinuing plans that pay the Medicare Part B deductible, the hope is that if someone has a little skin in the game, they will not run to the doctor for minor sickness like the sniffles. Anyone eligible for Medicare Part A before January 1, 2020, will have the option of purchasing Plan F or Plan C moving forward. If you already have Plan F, you do not need to do anything but to continue paying your monthly premium. Feel free to contact a Senior Benefits Medicare Expert today to make sure staying with Plan F is the cheapest way for you to continue to receive medical coverage, toll free at 1.800.924.4272 or get a quote below.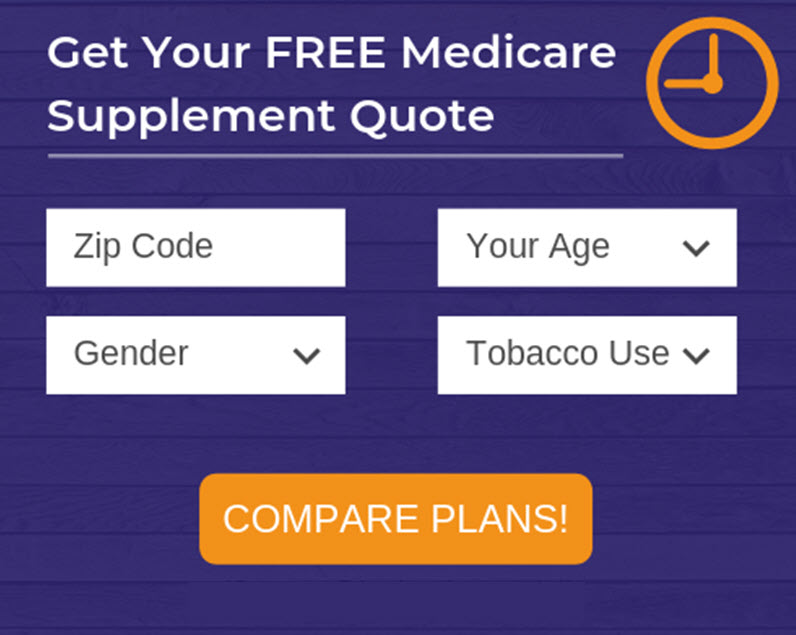 Choose A Different Medigap Plan
There is no doubt that Medicare Supplement Plan F is the most comprehensive Medigap plan available…
Until January 1, 2020, when the plan will no longer be available to people who become Medicare eligible from that date onward. But, you may be surprised to learn that the alternative options could provide similar coverage at much better prices. The most obvious choice to replace your F policy would be Plan G because the only difference between the two is that Plan G will not pay your Medicare Part B deductible ($233 in 2022).  This makes Plan G the best option to Medicare Plan F when comparing benefits.
BENEFITS
PLAN G
Header
Part A Hospital

Co-Insurance

YES
YES
365 Hospital Reserve Days
YES
YES
Part B Co-Insurance /Co-Payment
YES
YES
Blood Benefit

(First 3 Pints)

YES
YES
Hospice

Co-Insurance /

Co-Payment

YES
YES
Skilled Nursing Facility Co-Insurance
YES
YES
Part A Deductible
YES
YES
Part B Deductible
NO
YES
Part B

Excess Charge

YES
YES
Foreign

Travel Benefit

80%
80%
Out Of Pocket Limit
N/A
N/A
As you can see from the above Plan F vs Plan G comparison chart that the plans are identical, except that you wll have to pay your Part B deductible each year.
We have done some exhaustive research into Medicare Supplement Rates By State and have found that in many states you will pay much more than $185 for a Plan F policy than a Plan G policy in annual premiums.
"On average, Medicare supplement Plan F increases the most. In my experience, the average increase for Plan F is about 8% per year. The increases vary greatly depending on the state you live in and the company you are with." Alex Wender, Owner of Blue Wave Insurance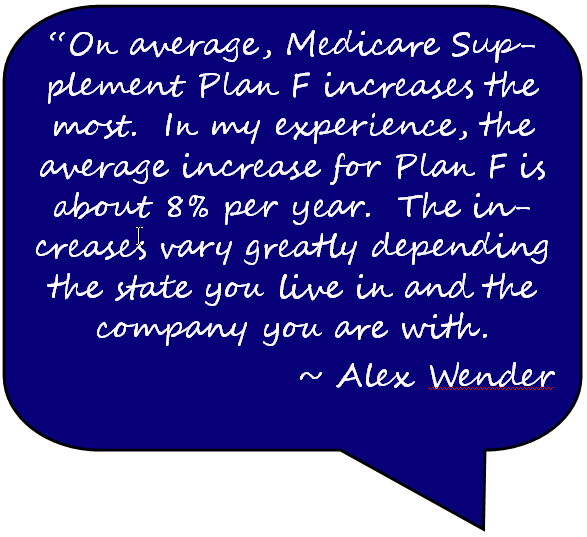 This means that if you were to switch to Plan G, there is a good likelihood that you would save more money even after paying the Medicare Part B deductible. You owe it to yourself to pick up the phone and speak to a Senior Benefits Supplement Expert today to find out which plan is right for you, toll free at 1.800.924.4272 or get a quote below.
Taking Action
If you are already covered with Plan F there isn't any action you need to take if you are willing to risk your premiums increasing disproportionately to other plans.
It is ok to be usure of the best step to take.
Our agents will not pressure you into something you do not want or need.
Pick up the phone and speak with one of our experts today toll free at 1.800.924.4272 or get a quote below.