The list of coverages that Medicare provides for Part A and Part B seems endless. Unfortunately, it is not.   
Knowing what does Medicare not cover can help you avoid being stuck with some costly medical bills.  
Luckily, Medicare offers a free search tool to see if Medicare does or does not cover the treatment.  
But wait, we've already done that for you too!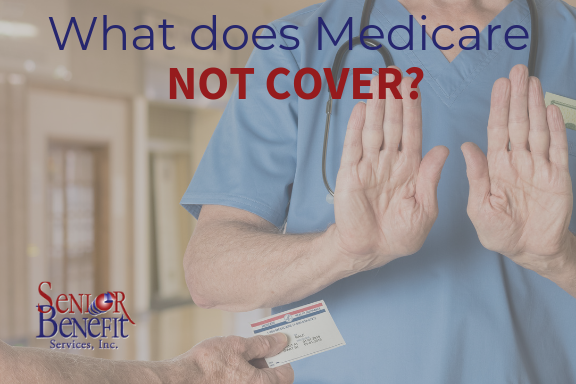 Inside you will find the ultimate list of 'What does Medicare not cover'!   
What Does Medicare Part A Not Cover 

 
Medicare Part A is the covers your inpatient hospital stays.   
Generally, these coverages include hospital related treatments, and sometimes on a limited basis, some home health services.    
While in the hospital, Part A covers, semi-private rooms, prescriptions, food, and nursing care so long as it is part of your inpatient care.   
However, Medicare Part A does not include private rooms (unless medically necessary), private nurses, or your toiletry items, like toothpaste, deodorant, or shampoo, etc.   
You will also have to pay for the first three pints of blood if the hospital has to purchase it. If it is received as a donation from a blood bank or was donated by you or a friend, there will be no extra charge.   
Medicare Part A covers just about anything you would need medically if you stay overnight.  
Most of the services and treatments that are not covered tend to be things that Medicare Supplements will cover.  
Contact a Senior Benefits agent today to discuss getting coverage where there presently is none.  

What Does Medicare Part B Not Cover 

 
Your Medicare Part B coverage kicks in when you visit the doctor or use hospital services in an outpatient capacity.   
These services include routine medical checkups, x-rays, mammograms, prostate exams, and things like preventative blood work.   
However, Part B does not cover things that are not medically necessary.   
Medically necessary is a term you will hear a lot when discussing Medicare coverages.   
What it means is that procedures and services such as cosmetic surgeries or alternative medicines, like acupuncture or massage, will not be covered because they are not medically necessary.   
Some of the bigger surprises that Medicare does not cover are; prescription drugs that are taken at home, eye and hearing exams, most dental work, and long term care.  
Medicare Part B pretty much abandons care for your eyes and hearing. They will not cover eyeglasses or hearing aids, which is a large reason so many people turn to Medigap supplemental insurance.  
You can purchase Medicare Supplemental insurance to cover most of these type of treatments and services.  ​
Contact a Senior Benefits Medicare Expert today!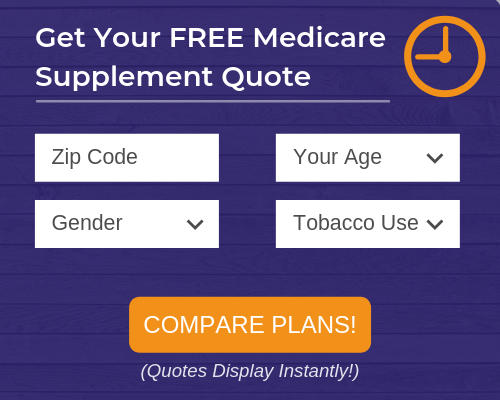 Ultimate List Of What Medicare Does Not Cover 

 
The following list of what Medicare does not cover includes many procedures or services that may be covered if medically necessary.   
In those instances, we have denoted that the service is covered under specific circumstances.   
For Medicare to cover that procedure or service, it must be determined to be medically necessary by your doctor.  
Your doctor will then need to prescribe or fill out the proper documentation so that Medicare will provide coverage.    
Be careful because even if the procedure is medically necessary without the doctor's determination, you will be responsible for 100% of the cost.   
The Ultimate List Of WHAT DOES MEDICARE NOT COVER: 
Acupuncture 

 

Acupressure 

 

Adcirca 

 

Adult Diapers 

 

Alternative Medicines 

 

Avanafil 

 

Bariatric Surgery

(coverage only for morbid obesity if medically necessary) 

 

Breast Augmentations 

 

Botox 

 

Chiropractic Services

(coverage only for manual manipulation of the spine if medically necessary)

 

 

Chronic Care Services

( if you have two chronic conditions speak with SBS Agent) 

 

Cialis 

 

Concierge Care 

 

Contact Lenses 

 

Cosmetic Surgery 

 

Custodial Care 

 

Dehumidifiers 

 

Dental Implants 

 
Dental Services (a few exceptions for if you are in the hospital, Part A may cover) 

 

Dentures 

 

Diapers 

 

Electric Air Cleaners 

 

Eye Examinations 

 

Eyeglasses 

 

Face Lifts 

 

Foot Care (routine

) 

 

Fitness Programs   

 

Gym Memberships  

 

Hair Treatment 

 

Hearing Exams 

 

Hearing Aids  

 

Homeopathy 

 

Humidifiers 

 

Incontinence Pads 

 

Insulin

(unless the use of an insulin pump is medically necessary)

 

Levitra 

 
Long Term Care 

 

Massage Therapy 

 

Non-Prescription Drugs 

 

Nursing Home Care (unless you require skilled nursing care and it is medically necessary) 

 

Prescription Drugs Outpatient (usually coverage only includes drugs given in a doctor's office) 

 

Shingles Shots 

 

Sildenafil 

 

Silver Sneakers  

 

Staxyn 

 

Stendra 

 

Supplements 

 

Tadalafil 

 

Travel

(there are a few exceptions that involve you being in the US, but a foreign hospital is closer or traveling between Alaska and the Continental US, and a Canadian hospital is closer)

Vardenafil 

 

Viagra 

 

Vitamins 

 
(end of the list of what does Medicare not cover)  
Taking Action
There is an infinity of things that Medicare does not cover, such as, rubber ducks, power drills, and toupee's, too.   
But, a lot of these treatments, services, and prescriptions are covered with a Medicare Supplement.   
OK, maybe not the ducks and drills.  
Now that you armed with all of this new knowledge, maybe it is time to stop asking, 'What does Medicare not cover?' and ask, 'Where can I get covered?'.  
A great place to start is filling out our free no obligation quote below or calling a Senior Benefits Agent Today!