Medicare Supplement plans, also known as Medigap policies, are designed to fill in the coverage gaps left by Original Medicare (Parts A and B). These plans, offered by private insurance companies, can help Medicare beneficiaries (those who qualify for Medicare) manage their out-of-pocket costs such as deductibles, copayments, and coinsurance. In this article, we will discuss what Medicare Supplement plans cover, the best plans available, and the costs associated with these plans.
What Medicare Supplement Plans Cover
Medicare Supplement plans generally cover the following expenses:
Part A coinsurance and hospital costs: Most Medigap policies cover the Part A deductible for hospital stays. If an insured stays more than 60 days, then their Medigap plan will cover the daily co-payment from days 61-90. If an extended stay continues the Medigap policy will cover the daily co-payment an additional 60 days. These additional days which start on day 91 and run thru day 150 are known as the 'Medicare Lifetime Reserve Days' which a Medicare beneficiary only receives once in their lifetime. Once they have been used, then they do not restore later. A Medigap plan also offers its own lifetime days that provide an additional 365 days once a Medicare beneficiary has used up the Medicare Lifetime Reserve days.
Part A hospice care coinsurance or copayment: Medicare Supplement plans cover the coinsurance or copayment for hospice care under Part A.
Skilled nursing facility care coinsurance: Medigap policies help cover the coinsurance for skilled nursing facility care, which is not fully covered by Original Medicare.
Blood: Most Medigap policies cover the first three pints of blood needed for a transfusion, after which Medicare covers the remaining costs under Part A.
Part B coinsurance or copayment: These plans cover the coinsurance or copayment for Part B services, which includes doctor visits, lab tests, and medical equipment. After Medicare pays its general 80% of approved charges, the Medicare Supplement plan will typically pay the remaining 20% of approved charges.
Part B excess charges: Certain Medigap policies (such as Plan G and Plan F) cover the excess charges if a healthcare provider does not accept Medicare assignment and charges more than the Medicare-approved amount. Keep in mind that around 95% of today's providers accept Medicare assignment and do not balance bill their patients for excess charges.
Part A and Part B deductibles: Some Medicare Supplement plans cover the annual deductibles for both Part A and Part B.
Foreign travel emergency: It is very important to remember that there is little to no coverage from Medicare when traveling outside the United States. Some Medicare Supplement plans offer coverage for emergency medical care during foreign travel, which has its own separate deductible and will typically cover up to 80% of the costs, with a $50,000 lifetime maximum.
Best Medicare Supplement Plans
There are ten standardized Medicare Supplement plans available in most states, labeled A through N. In addition to these 10 plans there are also two additional high deductible plans that a company may offer. Each plan offers a different level of coverage, and the best plan for you will depend on your individual needs and budget. Some of the most popular plans include: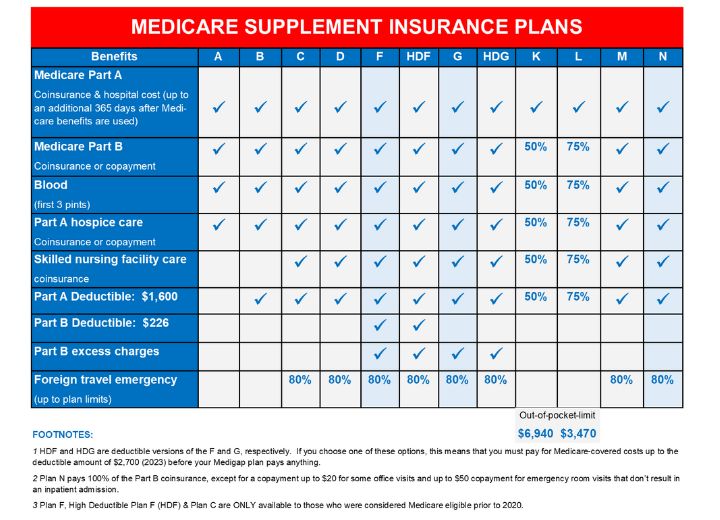 Plan F: This comprehensive plan covers all the gaps in Original Medicare, including Part B excess charges. Over the years it has been the most popular Medigap plan, but it is not available to those who became eligible for Medicare after January 1, 2020.
Plan G: Similar to Plan F, Plan G covers all the gaps in Original Medicare except for the Part B deductible. It is an attractive option for those who want comprehensive coverage with lower premiums than Plan F. The Plan G has begun to replace the Plan F as the most popular plan being purchased by those folks wanting top of the line coverage.
Plan N: This plan offers lower premiums in exchange for some cost-sharing. It covers most gaps in Original Medicare but requires a small copayment of around $20 for some Part B services such as doctor office visits and a $50 co-payment for Emergency room visits. The Plan N does not cover Part B excess charges.
Costs of Medicare Supplement Plans
The costs of Medicare Supplement plans vary depending on several factors, including the plan type, the insurance company, your age, location, and any discounts you may be eligible for.
Here are some general guidelines to keep in mind:
Premiums: Monthly premiums for Medigap policies can range from around $50 to over $300 per month, depending on the level of coverage and the factors mentioned above.
Deductibles, copayments, and coinsurance: Some plans require you to pay these out-of-pocket costs, which can affect the overall cost of your Medigap coverage.
Rate-setting methods: Insurance companies use three methods to set Medigap premiums – community-rated, issue-age-rated, and attained-age-rated. These methods impact how your premiums change as you age.
Conclusion
Medicare Supplement plans can be an essential tool for managing out-of-pocket healthcare costs not covered by Original Medicare. It is crucial to understand the various plans and their coverage levels to select the best option for your individual needs and budget. It is also important to keep in mind that a Medicare Supplement plan does not provide benefits for prescriptions you typically get filled at your neighborhood pharmacy. These expenses are covered by a separate Medicare Part D prescription drug plan, commonly referred to as a PDP.


When comparing Medicare Supplement plans, consider the following factors:
Evaluate your healthcare needs: Analyze your current and future healthcare requirements to determine which plan offers the coverage that best suits your needs.
Compare multiple insurance companies: Research different insurance companies that offer Medigap policies to find the best combination of coverage, price, and customer service.
Consult with a Medicare advisor: A knowledgeable advisor can help you navigate the complexities of Medicare Supplement plans and recommend suitable options based on your unique situation.
Enroll during your Medigap Open Enrollment Period: To avoid medical underwriting and potential premium increases, enroll in a Medigap plan during the six-month period that starts the month you turn 65 and are enrolled in Medicare Part B.
Takeaway
By taking the time to research and compare Medicare Supplement plans, you can ensure that you select a plan that provides the necessary coverage to protect your health and financial well-being. Of course the easiest way is to simply contact us at (800)924-4727 to connected to your own personal advisor.