Are you a senior looking for the peace of mind that comes with having comprehensive health coverage? If so, you should consider Aetna's Senior Products Plan G. As one of the most popular supplemental healthcare options, this plan gives seniors reliable coverage and affordable costs.
While many seniors are very familiar with Aetna's Medicare Supplement Plan F as being their most comprehensive benefits plan, the Aetna Medicare Supplement Plan G is almost identical in coverage except that it does not provide coverage for the annual Medicare Part B deductible. Read on to learn more about what makes Aetna's senior products plan G one of the best options out there for older Americans.
Overview of Aetna's Senior Products Plans
Many retirees prefer to have a comprehensive healthcare plan that meets all their needs. Aetna's Senior Products Plan G is designed to provide coverage for a wide range of healthcare services, including hospitalization, skilled nursing care, and physician services. With Plan G, seniors have the freedom to choose their healthcare providers without worrying about the restrictions of a network.
In addition, the plan offers coverage for excess charges beyond what Medicare pays, ensuring that seniors have the protection they need against unexpected medical expenses. Overall, Aetna's Senior Products Plan G is an excellent option for seniors who want comprehensive coverage and flexibility in their healthcare plan.
Benefits and Coverage of Plan G
If you're in the market for a new Medicare supplement plan, Plan G might be just what you're looking for. This plan offers comprehensive coverage that can give you peace of mind in your healthcare decisions. With Plan G, you'll have coverage for your Medicare Part A deductible, which can save you money in the long run. You'll also have coverage for skilled nursing facility care and a full year of foreign travel emergency coverage.
Another great benefit of Plan G is that it doesn't require you to pay any out-of-pocket costs other than your annual Part B deductible for Medicare-covered services, which can be a huge relief for those on a fixed income. Overall, Plan G is a great option for those who want comprehensive coverage without breaking the bank. The chart below shows just how comprehensive the Medicare Supplement Plan G is with Aetna and other carriers.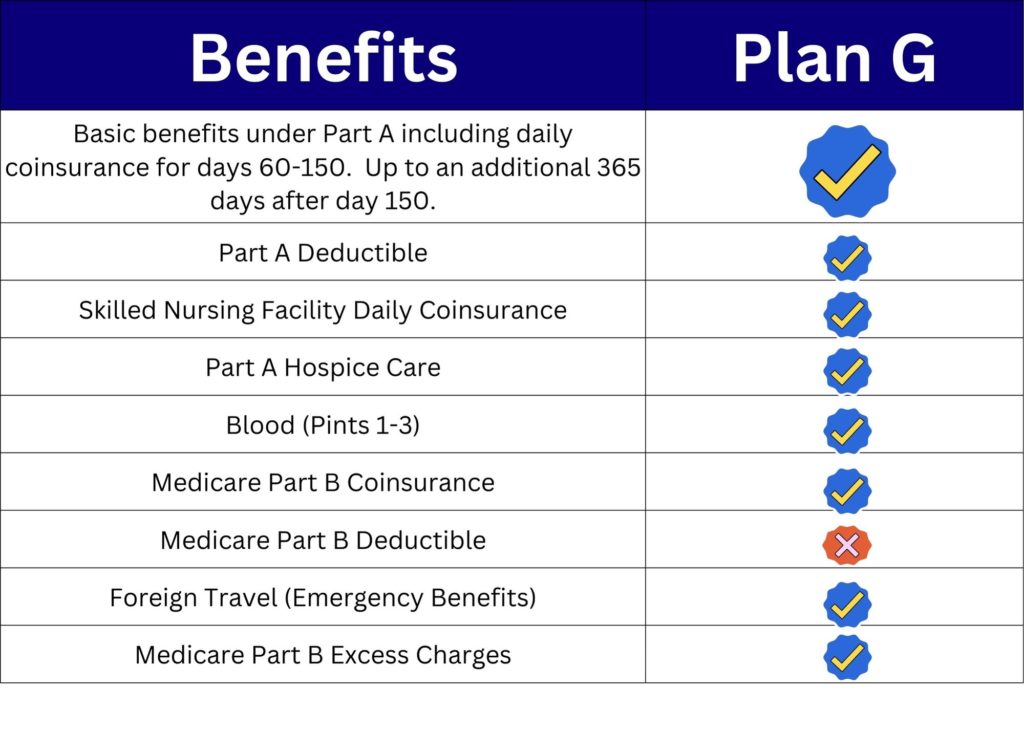 Eligibility for this Plan
Medicare Supplement Plan G is a comprehensive coverage option that offers seniors extra benefits beyond Original Medicare, such as coverage for foreign travel. However, not everyone is eligible for this plan. To enroll in Plan G, individuals must first be enrolled in Medicare Part A and Part B. They must also live in the U.S. and be at least 65 years old. Individuals under 65 may be eligible for this plan if they have a qualifying disability or end-stage renal disease and the state they live in mandates that a Plan G be offered to them the same as to those individuals who are 65 and older. If you meet these qualifications, this supplement plan could be the right choice for you. It offers robust coverage, including coverage for excess charges and skilled nursing facility care, and could help reduce out-of-pocket expenses.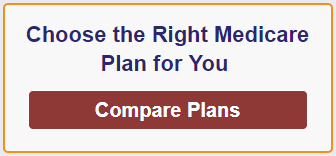 Medicare Supplement Plan G vs Plan F
Choosing the right Medicare Supplement plan can be confusing, especially when it comes to deciding between Plan G and Plan F. While both plans provide coverage for the same basic benefits, Plan G does not cover the Medicare Part B deductible like Plan F does.
In the long run, choosing Plan G can be a more cost-effective option since it typically offers lower premiums than Plan F. The comparison chart below shows the difference between Plan G and Plan F in benefits provided.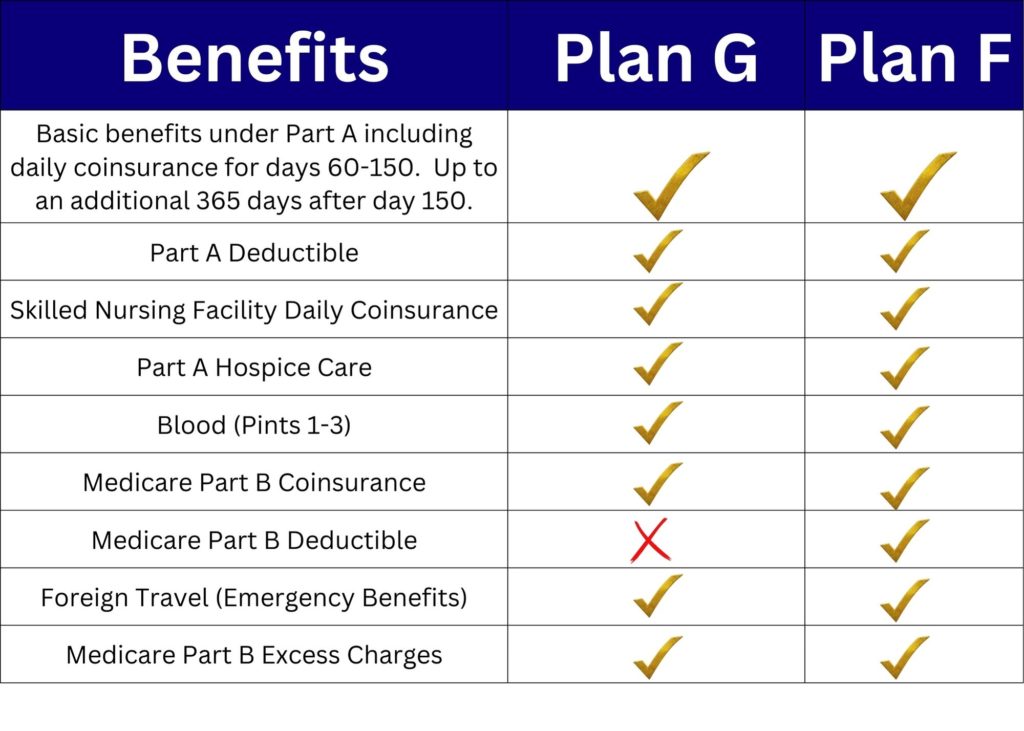 Related Article: Best Alternatives to Medicare Plan F
How to Enroll
If you're looking to enroll in Plan G, there are a few important things you should know. Plan G is a Medigap policy that provides comprehensive coverage for Medicare beneficiaries. To enroll, you'll need to be eligible for Medicare and have an active Medicare Part A and Part B plan. You'll also need to find a licensed insurance agent or broker who sells Medigap policies in your state. They can help you compare Plan G plans and choose one that best fits your needs and budget. Aetna's Plan G affordability can vary by state for seniors.
This is where speaking with one of our advisors really benefits you. They can provide you with not only premium pricing on Aetna, but also on other carriers that might offer the same Plan G but at an even lower monthly premium. Once you've selected a plan, you'll need to provide your advisor with some personal medical information and other basic information about yourself. From there, the insurance company will review your application and determine whether you qualify for coverage.
Why Aetna Senior Products Might Be Right For You
If you are a senior citizen, finding the right healthcare plan can be a daunting task. After all, there are various factors you need to consider. Things like:
What services are covered?
What your out-of-pocket expenses will be?
Which provider offers the most value for your money?
Aetna Senior Products Plan G may be the ideal plan for you if you want broad coverage. It's also great for low out-of-pocket costs, and access to top-notch medical care (no networks to navigate). With Plan G, you can enjoy all the benefits of Plan F, but at a lower cost.
That means you won't have to worry about paying for services that you may not need. It also means you can still get the coverage you need at an affordable price. Whether you're looking for hospital insurance, doctor's visits, or even foreign travel coverage, Aetna has got you covered.
So why wait? Find out if Aetna Senior Products Plan G is a good match for you today. Shouldn't you enjoy the peace of mind that comes with knowing you're covered. Check out the case study below on one of our existing clients.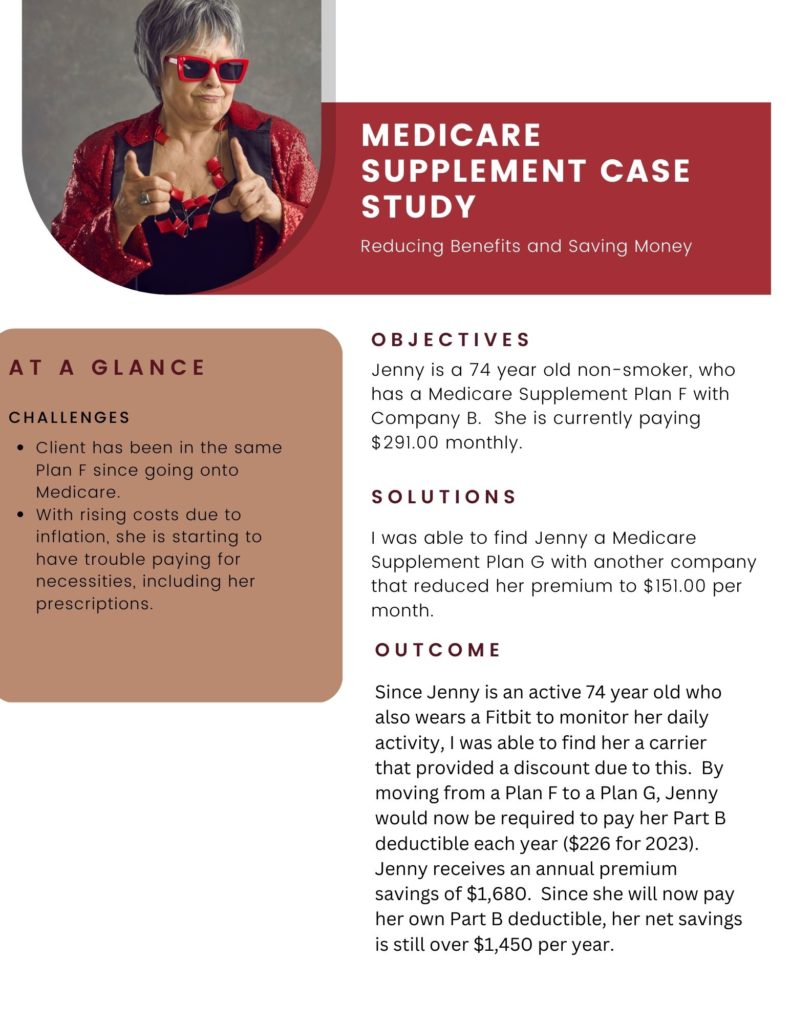 Why Is This A Great Option For Many Seniors?
Aetna Senior Products Plan G is a great choice for individuals looking to supplement their Medicare coverage. The debate over which plan is best – Supplement Plan G or Plan F – is ultimately up to you to decide, depending on your individual needs.
Aetna's Plan G offers a comprehensive range of benefits at an affordable price, providing you with the peace of mind that comes along with knowing that it covers medical expenses well into later retirement years.
So if Plan G sounds like the right fit for you, call Senior Benefit Services, Inc today to talk with one of our knowledgeable representatives who can help guide you towards making the best decision for your desired coverage.
Don't Need Comprehensive Coverage? Read our related article: Aetna Medicare Supplement Plan Review|Medicare Plan N Reviews