Medicare Advantage vs Medicare Supplement
Today I want to go over the common misunderstandings between getting a Medicare Supplement vs Medicare Advantage plan (pros and cons).
When you go onto Medicare you really have two options when we drill things down.  You can choose to enroll in a Medicare Advantage plan or stick with original Medicare Parts A & B while signing up to be in a Medicare Supplement/Medigap plan and getting a stand-alone Medicare Part D prescription drug plan.
Keep in mind that most folks must pay for their Part B monthly premium out of their social security check, no matter which option they choose.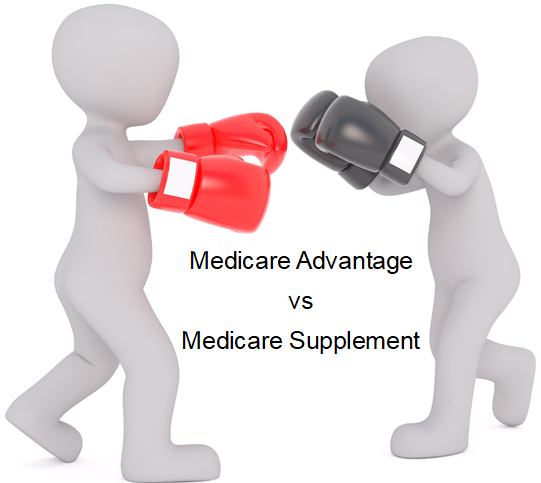 Medicare Advantage
So, let's look at a Medicare Advantage plan which is many times referred to as Part C of Medicare.  To make these plans look great, they are typically compared to someone just having Original Medicare Parts A & B.  The reality is that most folks who have Original Medicare also will sign up for a Medicare Supplement plan, so the comparison that you hear about is like comparing Apples to Oranges.
Typically, when you enroll in Medicare Advantage plans you are going to get your health insurance and prescription drug insurance bundled together.  These types of plans are referred to as MAPD which is simply a Medicare Advantage plan with prescription drug coverage.  When you sign up for one of these plans, you need to understand that your benefits are no longer being paid by Medicare to a doctor of hospital but rather thru the private insurance company you sign up with.  The doctor or hospital is going to bill your private insurance company directly.  The reason for this is that each month Medicare is basically sending your private insurance company a check for all your entitled benefits.  It is up to the private insurance company to manage your care so that they can still make a profit.
Is There A Free Lunch In There Somewhere?
So how do they manage your care.  Well, they do that by having you use their network of doctors, hospitals, and other providers.  The plan will typically use either an HMO or PPO network.
What initially draws people to Medicare Advantage plans is the affordability.  In many parts of the country there are many plans with premiums as low as $0 per month.  A knee jerk reaction is to focus on the monthly premium rather than what your actual financial exposure is each calendar year.  When comparing these plans, you need to remember that there is no such thing as a free lunch.  If the premium is $0 per month, how is the insurance company going to make any money?  Remember I said earlier those doctors and hospitals will no longer bill Medicare but rather the private insurance company?  That insurance company is receiving thousands of dollars from Medicare, so the lower amount of expenses that they pay out means they will have more in profit at the end of the year.  Not only do they control expenses by limiting you to use their network of doctors, but they also expect you to help pay for the medical expenses along the way thru co-payments and co-insurance.
Do You Want Flexibility?
This is the first place that Advantage plans lose a point when compared to a Medicare Supplement.  For that lower premium you first will lose quite a bit of flexibility and choice in which doctors you can see or even which hospital you might be able to go to due to the network of providers the plan has contracted.  We typically see HMO plans with the lowest of premiums since they are the most restrictive.  Simply put, if you want to see a doctor or go to a hospital that is not in the plans' network, then you are going to be paying all those expenses out of your own pocket.  There will not be any help from Medicare since that money has already been sent to the Medicare Advantage plan.
Next let's look at how you will be sharing in paying for your medical expenses.  At first you might say, well why do I have insurance if I am going to be paying for these expenses anyway.  Keep in mind that for the low premium or no premium Medicare Advantage plan, you are in essence signing up to share the costs with the private insurance company (ie. pay as you go).  An example of this would be that when you go to see your primary care physician you make a $20 co-pay.  While this doesn't sound bad, the co-pays for each day you are in the hospital will typically come in around $300 per day.  So for a 5 day hospital stay, you will owe the hospital $1,500.
On the flip side of co-pays, you have co-insurance payments.  These payments are a percentage of the actual costs rather than a flat dollar amount.  So, if a service that you need has a 20% co-insurance payment and costs $3,000 then you will owe $600 of that out of your own pocket.  Now the good news is that Medicare Advantage plans will have what is called a maximum out of pocket limit.  This is a cap on the maximum amount of money that will come out of your pocket each calendar year for medical expenses.  Right now, that amount is coming in around $7,500 for HMO network plans.  If the plan uses a PPO network, the maximum amount out of pocket for in-network expenses is around $7,500 but out of network has its own maximum out of pocket which is around $10,000.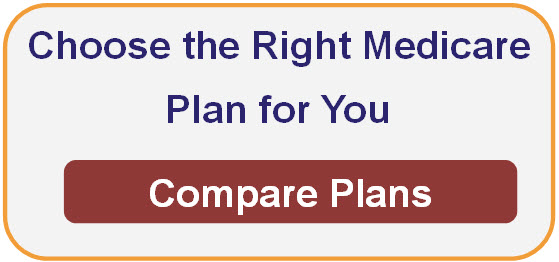 The last component that I believe that everyone who is considering a Medicare Advantage plan should look at is the prescription drug coverage.  It is very important to not only make sure that your doctors are part of the network, but that your pharmacy is a preferred pharmacy with the plan and that all your prescriptions are covered.  In addition, you need to see how the private insurance company is going to classify your prescriptions.
What I mean by this is, are they going to classify them in a lower tier such as Tier 1 which has the lowest co-payment costs or are they going to classify them in a higher tier which could be one that requires you to pay a higher co-payment or even possibly a percentage of the prescription costs rather than a small co-pay.
Medicare Supplement Plans
Now let's compare the Medicare Advantage plan to a Medicare Supplement plan.  Instead of a lower premium, a Medicare Supplement plan could start off in the $100 plus per month range.  For many years the Plan F has been the most popular plan.  If you went onto Medicare starting January 1st of 2020 or after, you cannot get the Plan F.  This is the reason why Plan G has become one of the most popular plans that folks choose.  With the Plan G, your yearly exposure is basically the Part B deductible which is a total of $233 for 2022 and will be $226 for 2023.
Many will question why in the world would they pay over $100 per month for a Medicare Supplement plan when they could get a Medicare Advantage plan for as little as $0 premium.  The answers are simple.
They can truly budget their overall medical costs each year. With a plan G they will pay the monthly premium which we will say is $120 and they will be responsible for the Part B deductible which is another $233.  The total for the year is $1,673 no matter how many doctors they see, how many days they spend in the hospital.  In essence they have reduced their out-of-pocket exposure from $7,500 to only $1,673 for the year.
With original Medicare and a Medicare Supplement there are absolutely no networks. You can choose your family doctor, the specialists you go to see, and which hospitals you want to use.  You are in control of where and from whom you get your care from.  I don't know about you, but if I am diagnosed with something severe that is going to require a specialized surgery, I want to go see the surgeon who has done this procedure not only many times but has the highest success rate in the country versus picking a surgeon out of a book that I know nothing about.
Very rarely does Medicare require any prior authorization. This means that if your doctor says you need something, then you can get it.  With a Medicare Advantage plan, if the plan doesn't authorize the service first, then it will not be covered.  Prior authorization is basically a gatekeeper that allows the plan to decide whether you really need what the doctor is requesting.
In addition to a Medicare Supplement plan you are going to need to sign up for a stand-alone Medicare prescription drug plan.  Yes, these plans have a monthly premium that would be in addition to your Medicare Supplement premium.  Once again you might say, why would I want to pay for this as an extra expense when I can get prescriptions covered thru a Medicare Advantage plan.  The answer is that by comparing stand-alone prescription plans you have many to choose from which would allow you to go with the plan that covers your prescriptions at the lowest costs.  With a Medicare Advantage plan, you have to use their list of approved drugs and what they require you to pay out of your own pocket in co-pays and co-insurance.
What To Start With
For someone new to Medicare, it may sound like a great idea to start off with a low costing Medicare Advantage plan when you are your healthiest and then switch to a Medicare Supplement as your health begins to decline.  In theory, this would be a perfect way to save money.  In reality, this typically does not work.
While there is a trial right exception that allows you to start off with a Medicare Advantage plan and then switch back to original Medicare and get a Medicare Supplement with no underwriting, this ends after 12 months of being in the Advantage plan.  In addition, if you were in a Medicare Supplement plan, switched to an Advantage plan and then decided you didn't like it, then you could get your Medicare Supplement plan back with no underwriting if all this was done in less than 12 months.
So, to return to my earlier statement about this typically not working is more so for those who start off in a Medicare Advantage plan and stay in an Advantage plan for over 12 months.  Once this happens, and then you decide to get a Medicare Supplement plan, you will need to go through the underwriting process and could be declined.  Remember, we said that a person would stick with the Advantage plan until their health declined and then make the change.  Once your health begins to decline, then it will be much harder to get a Medicare Supplement plan.  This is a big concern that needs to be addressed when comparing Medicare Supplement vs Medicare Advantage.
Which Is Better?
If you are like most folks who read this article, you might be thinking that I am 100% opposed to anyone having a Medicare Advantage plan.  Let me say that this is not the case at all.  I believe that there are a number of folks who would benefit from a Medicare Advantage plan based on their particular needs and financial situation.  What I am against is these plans being marketed in such a way that they appear to be the next best thing since sliced bread.  You need to fully understand Medicare Advantage vs Medicare Supplement…the pros and cons, before making such an important decision.
So let me give you just a couple of examples of who a Medicare Advantage plan could benefit.  The pros include:
Example 1
Individual is on a very tight fixed income and simply cannot afford health insurance without having to give up being able to buy their monthly necessities or pay their utility bills. These might be folks who are even just above the threshold of qualifying for Medicaid benefits.  In addition, this individual does not travel regularly, and their doctors and local hospital are part of a Medicare Advantage plan's network.  For this person, going on original Medicare only without a Medicare Supplement, would leave them financially exposed to a 20% coinsurance under Part B (with no out of pocket maximum) of Medicare in addition to the Part B deductible that they would have to cover each year.  With a Medicare Advantage plan they would at least have an annual maximum out of pocket (MOOP) of around $7,550 (maximum for 2022).  In addition, they would have prescription drug coverage thru their Medicare Advantage (MAPD) plan.  The pros definitely outweigh the cons for this individual.
Example 2
Individual is under the age of 65 and on Medicare due to a disability. In many states, they cannot get a Medicare Supplement plan, or if they can it might just be a bare bones plan such as Plan A.  For this person, they to can have the knowledge of knowing that if they sign up for a Medicare Advantage plan, that they will at least have a maximum out of pocket for a given year and have prescription drug coverage to go along with their health insurance.
While these two examples do not include every situation, the biggest takeaway is that neither Medicare Supplement nor Medicare Advantage is a one size fits all.  For those folks who want to go the route of an Advantage plan, then we always recommend that they look at a hospital indemnity plan to help cover the larger out of pocket expenses (such as hospital daily co-pays or cancer treatment) and to save as much money each month in an emergency fund that can help offset the $7,500+ in maximum out of pocket exposure for a calendar year.
Think of this as a safety feature just in case you are diagnosed with a serious health condition such as cancer.  The chemo treatments alone could very well have you spending your maximum out of pocket in just a matter of months.
The Last Word
As we said earlier, everyone has their own personal situation and needs.  There is much to know when comparing Medicare Supplement vs Medicare Advantage (Pros and Cons), so make sure you have everything you need to make an informed choice.  Contact a Senior Benefit Services advisor to get the guidance you need for this important decision.  Remember, not only is our service free, but there is never any obligation or pressure to work with us.  To get started immediately simply call (800)924-4727 or click on the Get Help button below.