We are going to review the benefits of Medicare Plan N and how it might be a good choice for you. Navigating Medicare plans can be confusing, especially for those approaching retirement. Retirees often feel confused about selecting the best coverage option due to the overwhelming number of choices. One option that may work well for certain people is Medicare Plan N. This plan offers solid benefits and lower premiums without the requirements of using doctors and hospitals in a network.
Discover this coverage's benefits with our in-depth review. Before we get started, keep in mind that sometimes this plan is referred to as Medigap Plan N, Medicare Supplement Plan N, and even Medicare Plan N. Plan N is standardized so no matter which carrier you get your coverage through, the benefits are the same.

What is Medicare Plan N and who is eligible for it
Medicare provides health coverage to those over 65, ensuring peace of mind. However, there are many different plans within Medicare, and choosing the right one can be confusing. One option is Medicare Plan N. The plan covers services offered by Medicare Plan G, but excludes excess charges and has lower co-payments. Enrollment in both Medicare Part A and Part B makes you eligible to participate in this plan. It's important to carefully review all the specifics of Medicare Plan N and its benefits.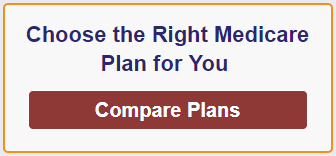 The benefits – what does Medicare Supplement Plan N cover
Plan N may not be the most well-known Medicare Supplement plan, but it's popularity is increasing each year. The plan covers most out-of-pocket healthcare expenses, minimizing financial worries for you. However, it's important to note that Plan N does require you to pay a small copay for some services, such as emergency room visits and doctor's office visits. Understand the plan before signing up, as it excludes excess charges and specific costs. Overall, if you're looking for a reliable and lower costing Medicare Supplement plan, Plan N might just be the answer.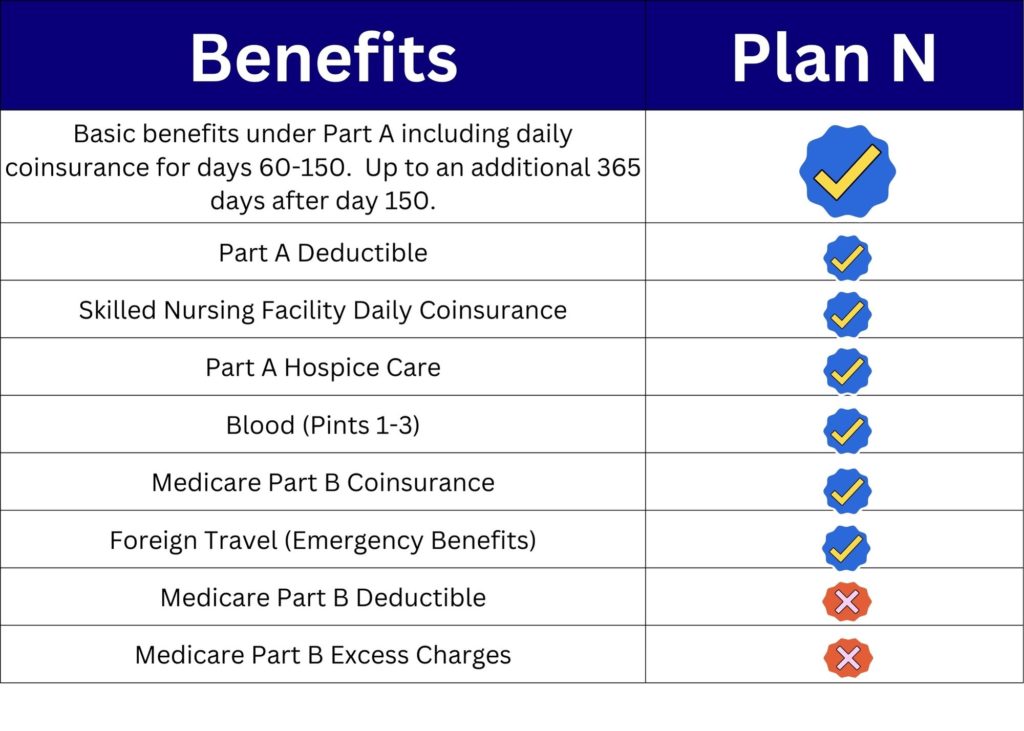 Coverage differences between Plans F, G, and N
When it comes to choosing the right Medicare supplement plan, it's important to understand the coverage differences between Plans F, G, and N. While Plan F is the most comprehensive, covering all of the out-of-pocket costs that Medicare doesn't cover it is the most expensive. Plan G is similar, but doesn't cover the Medicare Part B deductible. The Plan N covers even less, but is a more affordable option. It's important to carefully consider your healthcare needs and budget when selecting a plan.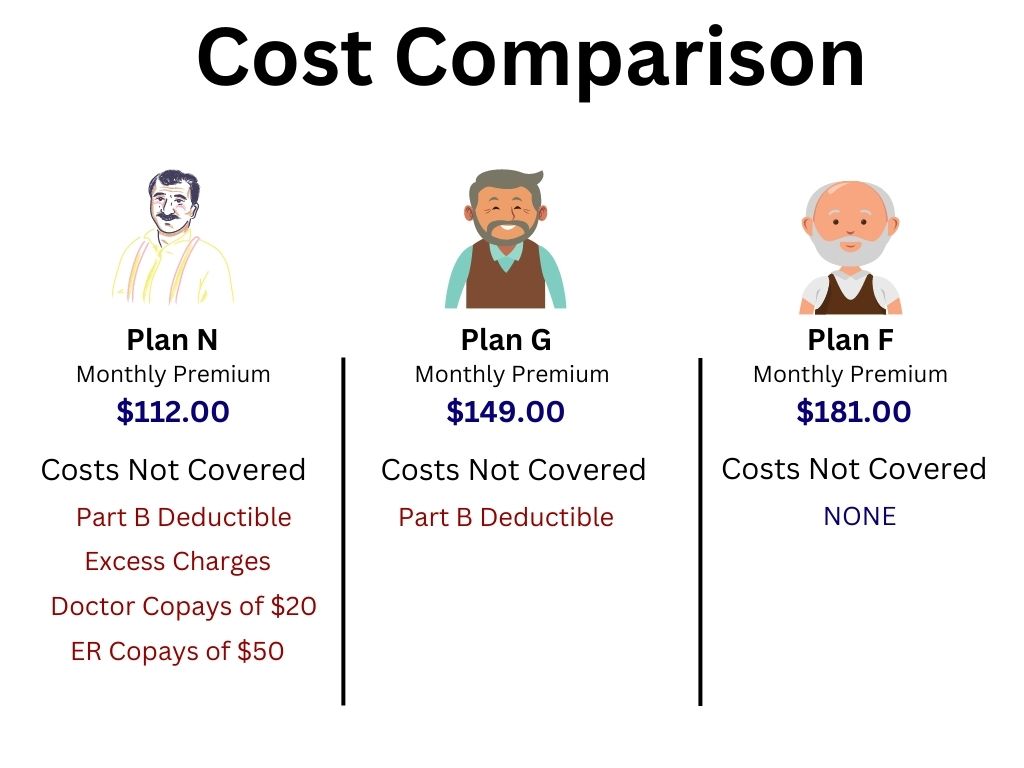 The above graphic shows a comparison for a 70 year old male, non-tobacco user for the state of Maryland in 2023. It is important to note that since January 1, 2020 folks that are new to Medicare cannot purchase Plan F.
Understanding out of pocket costs with Plan N
While it is great to review the benefits of Medicare Plan N, it is also important to understand what it does not cover.
Part B Deductible – for 2023 the annual deductible is $226
Part B Excess Charges – keep in mind that roughly 96% of doctors do NOT balance bill for excess charges. Example of an excess charge would be someone who goes to see their doctor who doesn't participate in the Medicare Assignment program. The doctor is billing Medicare $200, but Medicare is only approving $120. This doctor can balance bill for a maximum of 15% above the Medicare Approved amount. The patient would owe the doctor $18 as the excess charge amount.
Doctor Copays – the copays are somewhat of a hybrid model. The way that it works is that it is a 20% co-insurance up to a $20 maximum co-pay. If Medicare approves the doctor's office visit billing for $200, then 20% of that amount would be $40. The plan can can charge the policyholder no more than $20, which is the maximum capped amount permitted under the policy.
Emergency Room Copays – the copay for this item is the basically the same, but is capped out at $50. When the hospital admits you from the emergency room, your expenses come under Part A of Medicare. If you meet the eligibility criteria, they will waive $50 charge.
Using the comparison chart above you will see the savings are quite noticeable when comparing Plan N to Plan G and Plan F. For folks whose doctors accept Medicare Assignment (don't balance bill for excess charges) Plan N could be a great choice. If you regularly visit multiple doctors throughout the year, then Plan G may be a more suitable option for you.
Tips on selecting the right plan for your needs
Picking the perfect plan can be overwhelming, but it's essential to find one that fits your unique needs. As you try to determine the plan that perfectly suits your unique requirements, the overwhelming availability of twelve standardized plans can easily cause confusion and frustration. This is exactly why we do reviews such as this one for Medicare Plan N.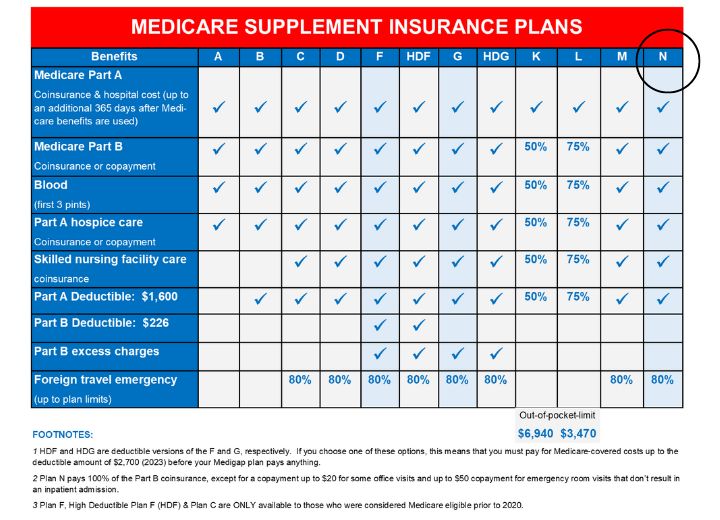 Though most consider Medicare Plan N as a cost-saving option, it is important to weight the benefits of Plan N against Plans F and G and determine which one best meets your specific needs. Consider if you are comfortable with paying costs like the Part B deductible and coinsurance – if so, then Plan N may be an excellent choice. It is a good idea to work closely with a qualified health insurance expert who can guide you through this assessment process. Call Senior Benefit Services, Inc at (800)924-4727 to get the help you need.