Today we are going to quickly discuss whether or not you have to enroll in a Medicare Part D Prescription Drug Plan. While the answer to this question is easy to answer, there is a big reason why you might just not want to go along with it.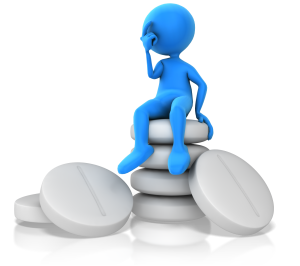 Do I have to enroll in a Medicare Part D Prescription Drug Plan?
No! There is no law that says you MUST enroll in a Part D Plan, but the penalties for not doing so will hit you squarely in the wallet. First you must understand that for Medicare Part D to actually work, it must have a balance of folks who take little to no prescription drugs to offset all the folks taking large amounts of prescriptions. If you could simply start Medicare Part D at any time, most people would simply wait until they were on a number of expensive prescriptions to go and sign up for the benefit.
What are the penalties for waiting?
The Medicare Part D late enrollment penalty is 1% 'simple interest' per month that you do not have a Part D plan or other credible coverage. Credible coverage can be prescription drug benefits provided thru a group health plan that you are covered under at your place of employment or thru your spouse. While 1% does not sound like much, keep in mind that it is per month you were without coverage when you were eligible. In the sample below you will see how quickly the penalty adds up when a person does not sign up for a Part D plan when first eligible. In this example the individual waited 34 months before finally deciding that they needed to get coverage. We are also going to say that the Part D plan they want to now enroll in has a monthly premium of $18.00 per month. It would be great if the penalty was based off of whatever plan premium you selected, but it doesn't work that way. The penalty is based off of what CMS announces as the national average (and that typically goes up each year). For year 2022 the national average is $33.00 per month.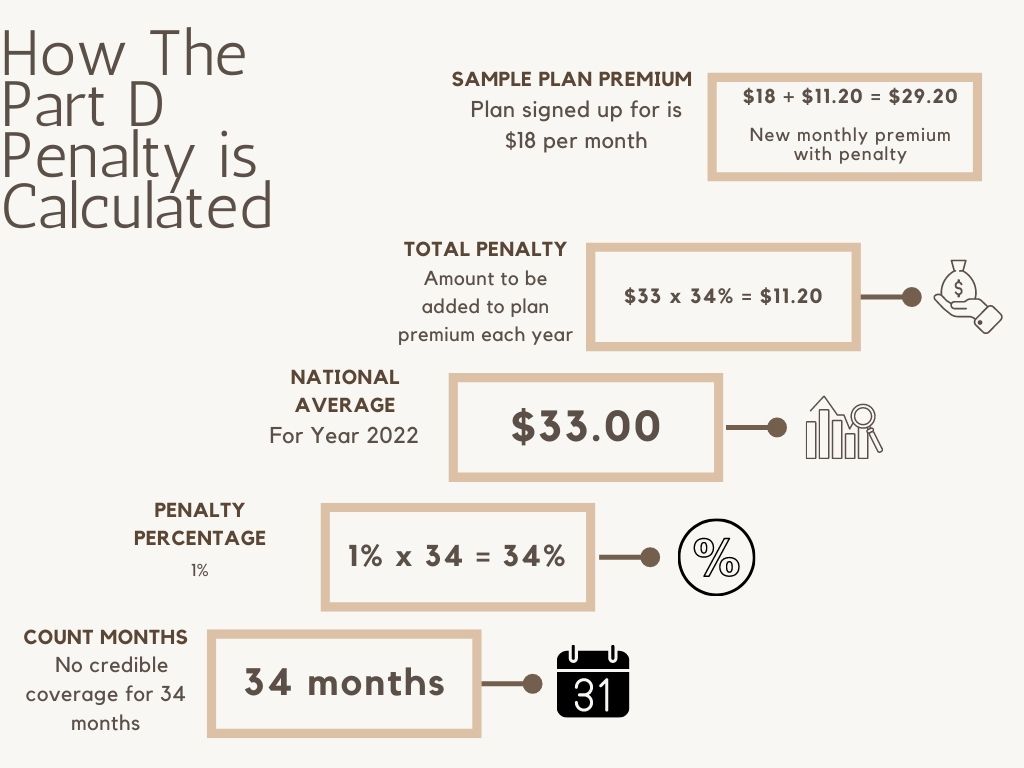 Based on the example above, this individual who could of been paying only $18.00 per month for their Part D Prescription Drug Plan must now pay $29.20 per month in 2022. Each year for the rest of the time this individual is enrolled in Medicare Part D the penalty amount will have to be re-worked. So this means that if in 2023 the national average is $35 per month, and the consumer stays in the exact same priced plan of $18 per month, then they will have to now pay $29.90 per month. If they needed to move to another plan due to prescription no longer being covered in their old plan, the $11.90 penalty amount would be applied to the new plan premium.
Why should I enroll in a Medicare Part D Prescription Plan when I am not taking any prescriptions?
The short answer is that you will not face the late enrollment penalty. Keep in mind that the late enrollment penalty percentage will follow you each year no matter which plan you are enrolled in. The next reason why you should at least be enrolled in the cheapest premium plan is that you never know when your doctor may have to prescribe a prescription and you want to have coverage to help pay for it. In reality, we never know what kind of prescription we might need or how expensive it will be.
Have additional questions?
Contact Senior Benefit Services to get guidance on what to do if you did not sign up for a Medicare Part D prescription drug plan when first eligible. We are here to help (800)924-4727